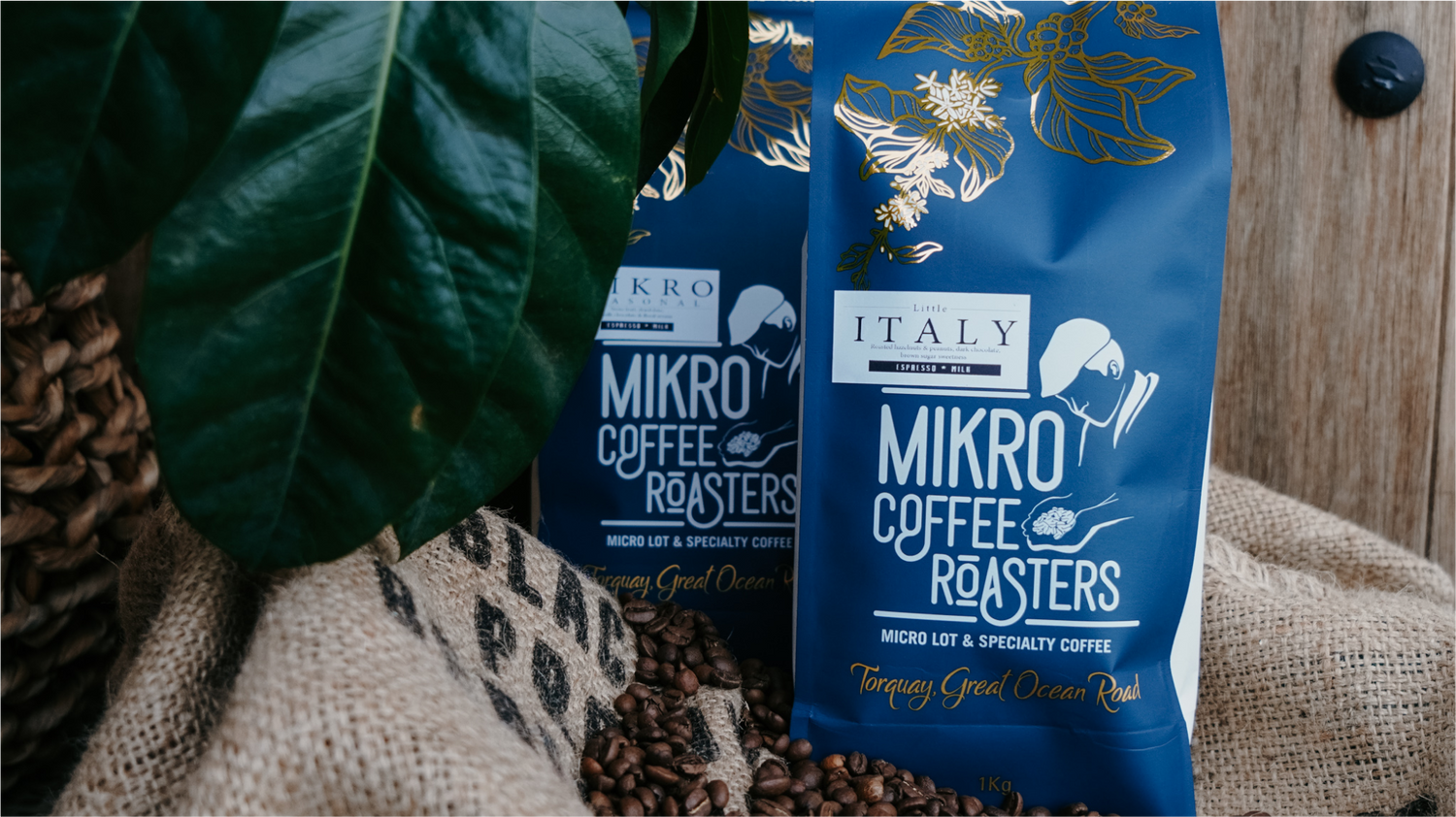 Subscribe and Save!
Receive your coffee on-time and never run out again all thanks to our Mikro Coffee Subscription service.
Enjoy 10% savings for the life of your subscription and have the freedom to edit your subscription and cancel anytime, no questions asked, satisfaction guaranteed!
Start Saving Time & Money & Subscribe Today!
Regular price

From $89.00 AUD

Regular price

Sale price

From $89.00 AUD

Unit price

per

Regular price

From $16.20 AUD

Regular price

$18.00 AUD

Sale price

From $16.20 AUD

Unit price

per
Before inviting you to spend your money on our products and support our small business with your hard-earned cash, let us share a bit about Mikro Coffee and why we believe you'll love your experience with us.
Based in Torquay, Victoria, we're a boutique coffee roastery on a mission to reshape the coffee industry by revolutionizing the entire process and enhancing your home coffee experience.
Our approach includes sourcing top-notch coffee beans directly from farmers while offering them higher premiums for their quality products. We also prioritize the well-being of our Mikro team by creating a happy workplace and offering above-award fair wages to help them improve their lives.
Additionally, we ensure every supplier we collaborate with is paid promptly and fairly.
At Mikro, our dedicated team goes the extra mile to deliver an exceptional coffee experience and is always ready to address any inquiries you may have.
We're eager to help you make the most of your Mikro Coffee Experience, whether at home or in your office.
So, what's in it for you for choosing Mikro Coffee?
If you have already tried our coffee and keen to have it delivered to your front door by our friendly team, you can now Save 10% on every order by subscribing to have your order delivered every 7, 14, 21 or 31 days with an easy to sign up process and you can cancel anytime.
As our coffee subscriber you will get 10% saving on your regular coffee delivery locked in for the life of your coffee subscription and you can call us or come and see us at the roastery anytime during open hours and chat about any changes you need to make to your subscription and our crew will be happy to assist you.
Will you help us support our team of staff to stay in jobs and with fair wages and help us pay higher premiums to our coffee farmers?
To support us, all you need to do is opt for locally roasted, high-quality coffee and have it delivered right to your doorstep – trust us, you won't regret it. ✅
At Mikro Coffee, we take our responsibility seriously by ensuring the well-being of everyone involved with our business, particularly our dedicated and hardworking Torquay Crew.
If you require assistance or would like additional information before subscribing, please don't hesitate to reach out to us here...
Featured collection
Regular price

From $89.00 AUD

Regular price

Sale price

From $89.00 AUD

Unit price

per

Regular price

From $16.20 AUD

Regular price

$18.00 AUD

Sale price

From $16.20 AUD

Unit price

per
HAPPINESS STARTS WITH MIKRO
HAPPINESS STARTS WITH MIKRO
HAPPINESS STARTS WITH MIKRO